Are you looking to add an extra living area to your home? Whether you need additional space to use for a home office, a guest house, or for an elderly relative or teenager who needs their own space, an accessory dwelling unit (ADU) may be the perfect solution!
ADUs are essentially secondary residential units that can be added to your existing property. Building an ADU is a great way to make your property more functional, optimize space, and boost your home's long-term resale value.
There's lots to think about any time you add to or remodel your home. Keep reading to learn what to do (and not do) when building an ADU!
DO Check Your Local Zoning Laws
Building an ADU is a great way to add usable square footage, boost your property value, and optimize space. But it's important to check the zoning laws in your neighborhood before you start building an ADU if you want to take advantage of these benefits. It's likely that your neighborhood will require you to have a permit before any work takes place.
Contact and consult the local regulatory body in your area regarding any necessary permits and what's involved in obtaining them. Keep in mind that it's common for cities to require different construction permits for different types of ADUs. For example, converting your basement into a legal ADU may require a different permit than is required to build a separate building on your property.
There are also sometimes specific requirements that apply to ADUs. For example, some areas only allow ADUs up to 1,000 square feet, while some require a designated parking space for the ADU.
DON'T Try to Do It Yourself
Unless you're an experienced contractor or architect, you're better off hiring a team of trained professionals to help you with planning and building your ADU. Especially if your project involves adding plumbing or electrical, you're unlikely to save money, time, or stress by attempting to build an ADU on your own.
The construction company you choose to build your ADU will help determine your project's success. Look for experience, professionalism, and a solid portfolio of work that demonstrates an ability to complete your specific project.
Find a contractor that's dedicated to understanding your vision and goals. If your project has unique requirements or specifications, consider working with a custom home builder. The right company will be able to incorporate all your needs and preferences and also ensure your new ADU works with your home's existing style, structure, and layout.
DO Carefully Consider All Your Design Options
Building an ADU is a big and exciting decision that can impact everything from your home equity to your family's daily routine. It's important to think carefully about what kind of ADU you want to build, what the space will be used for, and how it will work with your existing home's design and layout. The sky's the limit when it comes to ADU design ideas!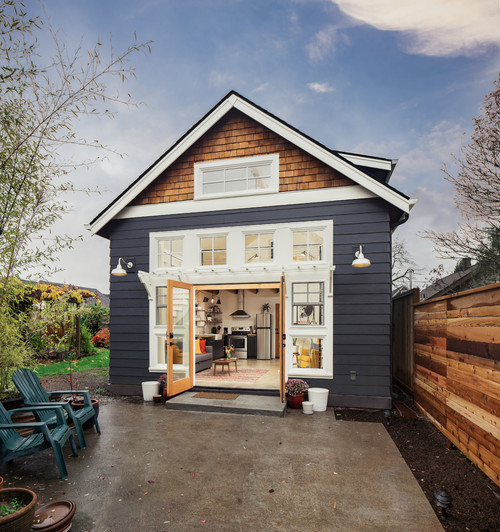 In general, there are two types of ADUs to choose from: attached or detached. An attached ADU is connected to your primary structure with an adjoining wall; it could be built onto to your home as an addition or it could be a converted space in your existing home such as a garage, daylight basement, or attic. A detached ADU, on the other hand, is its own standalone unit, located somewhere on your property separate from your home.
The kind of space you decide to build will likely depend on how you plan to use your ADU. Common purposes for ADUs include:
In-law suites
Guest houses
Rentable spaces (for tenants or homestay sites like Airbnb or VRBO)
DON'T Cut Corners
Building an ADU on your property is a big project. It's tempting to want to skip steps in order to finish construction early or to save money. When it comes to big home improvement projects like this, though, it's worth going the extra mile now to avoid the future headaches that could result from cutting corners.
The last thing you want to do is skip a step and then find out your ADU isn't up to code or you can't actually include it as part of your home's total square footage when you eventually try to sell.
Go through the proper channels — obtain all necessary permits and vet your construction company thoroughly — to ensure your ADU is legal. You'll thank yourself later.
DO Set a Budget & Schedule
With any big construction project or remodel, there's a potential for unforeseen issues and obstacles to arise. That doesn't mean you should go in without a specific budget and timeline in mind.
Setting a budget and schedule makes planning your project much easier and gives your contractor a solid idea of your project goals. The median cost of building a detached ADU in Portland is $90,000, while the median for an attached ADU is between $40,000 and $50,000.
Any large home construction project requires preparation, communication, and investments of time and money. Setting timeline and budgetary parameters for yourself and your home builder is a good way to ensure your expectations are realistic and clear and keep all involved parties accountable.
Portland Home Builders You Can Trust

If you're looking to build an attached or detached ADU on your property, you need a construction company that understands your vision, shares your commitment to success, and has the skills and experience necessary to get the job done right. At Hamish Murray Construction, we specialize in taking your ideas and turning them into a reality.
Let us help you transform your home! Call us at (503) 460-7203 or send us a message to get started!